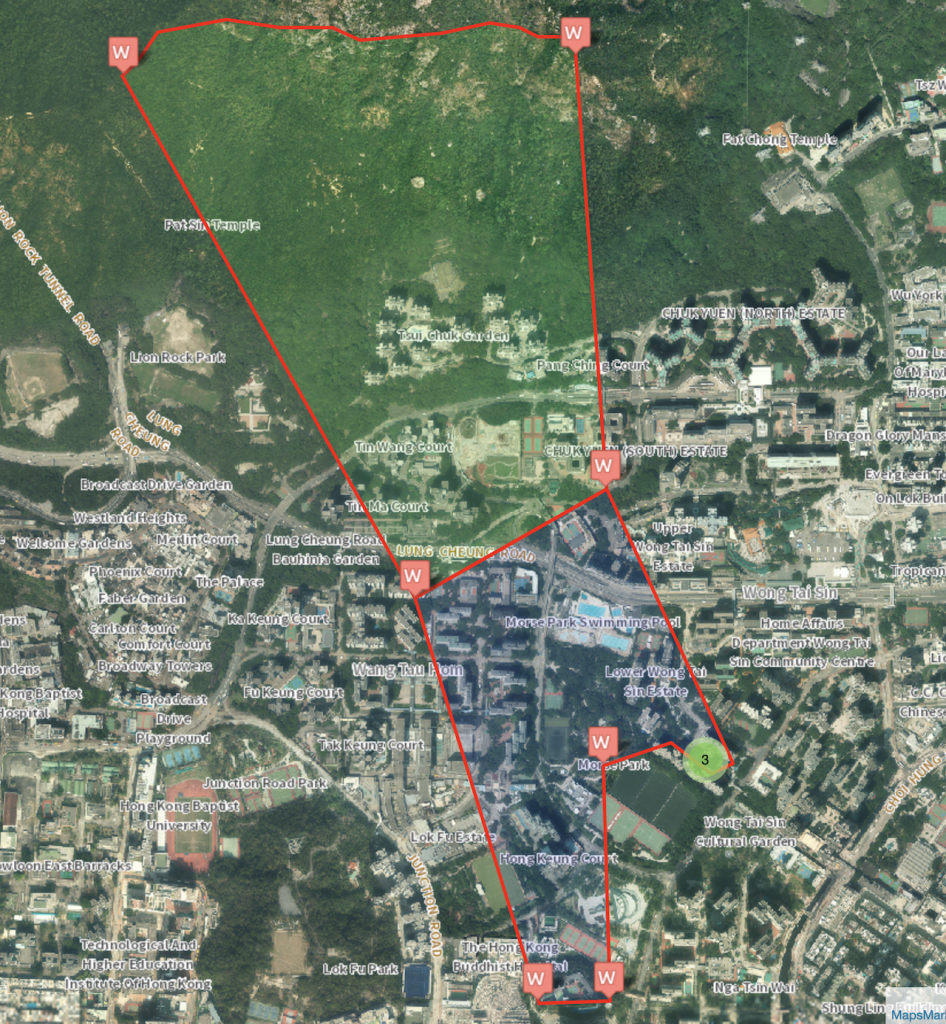 // WDL 歷史及由來 //
WDL (WAR DEPARTMENT Lot)是香港用於英軍使用軍事地段的編號系統!據我們已知資料最早出現於公開資料 1936年PWD工務局報告,但是從政府內部文件,應該於1931年已經開始使用!根據現在蒐集到嘅資料,WDL 有 68個地段,我們蒐集了部份地段的界線圖及地段資料。
從 1860年 《北京條約》割讓九龍半島(今界限街以南)及 1898年簽訂《展拓香港界址專條》租借新界,香港殖民地政府 於九龍及新界進行城市規劃及發展。 軍部在 域多利駐地WDL6(現在金鐘一帶)及 九龍中央軍營WDL12(現在九龍公園位置)、 槍會山軍營WDL 17及京士柏 WDL32(King's Park) (步槍靶場)佔據大量城市中央地段。 
1900-1905年當時香港殖民地政府及軍部 因為京士柏 (King's Park) 軍用預留地段 (Military Reserve)而引起爭議 ,雙方堅持己見。 英國 WAR Department 指派路易斯上校(Colonel J.F. LEWIS)化解爭議及對香港 防衛進行軍事評估。 經路易斯上校進行 調解,最後 軍部及殖民地政府解決問題並簽訂了協議及制定軍用地段嘅佔用同埋收回程序。
最後 殖民地政府 以 特定條件收回 KING's Park步槍靶場,並以特惠條件 租地給軍部設置九龍城步槍 靶場。 根據資料,九龍城步槍 靶場(WDL 18)佔地93.20 英畝,而靶場危險地帶(MR)佔地162英畝。大約是橫頭磡,摩士公園,樂富及部份黃大仙一帶。
路易斯上校編寫了 MEMO 及 雙方協議文件,而MEMO 內有一個列表列出1905年軍部使用中的軍事地段,當時未有使用 WDL 編號。但是在文件中有加上用紅筆的註釋 寫上之後地段的WDL編號!
在1920s 殖民地政府打算收回域多利駐地WDL6部份地段(現在金鐘一帶) 馬己仙峽道軍用療養院及松林/西高山土地,因爲之前已經有協議及制定軍用地段嘅佔用同埋收回程序,當時請咗 Sir John Oakley – 測量師 進行評估土地價值,經過一輪討價還價,該批軍事地段 於 1920-1930 由政府收回!
政府軍用地段戶口1900-1940(Hong Kong Colonial Military Lands account)  記錄咗政府及軍部就有關軍事用地的交易資料、土地價值及土地契約編號等資料。暫時是WDL 最早出現的記錄是 1931年。
香港軍事用地早期稱為War Department Lot (WDL) 戰爭部地段,1964因架構改變,並改稱為Ministry of Defence Lot (MODL)及至現時軍事用地則稱為Defence Lot (DL)。
根據WO 78/5331/1-1911 IHong kong ndex Plans 及HKRS58-1-32-7 紀錄,整合不同時期的軍事用地編號清單,不過仍有未知的地段有待考證。
In the early age, the land for military's purpose used by War Department was call War Department Lot (WDL). The land lot changed to Ministry of Defence Lot (MODL)due to the reorganisation of the military departments in 1967. The current military land lot become Defence Lot (DL)before 1997.
Hong Kong's War Department Lots listing
base on WO 78/5331/1-1911 IHong kong ndex Plans,HKRS58-1-32-7 and other information. Record the changes of the lot listing and specific area. Meanwhile there are few of them are the missing puzzle.
Hong Kong's War Department Lots listing
base on HKRS58-1-32-7 and other information
WDL No. 1 Site for Practice Battery, Mount Davis 1905
WDL No. 2 Land at Belcher Point  1859
WDL No. 3 Mount Austin Barracks, The Peak 1897
WDL No. 4 Parade Ground 1842
WDL No. 5 Wellington Barracks 1842
WDL No. 6 The Cantonment between Queen's Road and Kennedy Road 1844
WDL No. 7 Bowen Road Hospital 1894
WDL No. 8 Site of Barracks, Lyemun Peninsula 1889
WDL No. 9 Stanley Military Cemetery
WDL No.10 Kowloon East Battery, Kowloon Peninsula, 1888
WDL No.11 Signal Hill, Kowloon Peninsula, 1864
WDL No. 12 Central Block, containing Whitfield Barrack and Kowloon West Battery, Kowloon Peninsula, 1891
WDL No. 13 Stonecutters Island, 1864
WDL No. 14 Land below Bowen Road Hospital, 1905
WDL No. 15 Devil's Peak and Hai-Wan, 1905
WDL No. 16 NGAU TAU KOK or. Kowloon Peak, 1905
WDL No. 17 Gun Club Hill, Kowloon.
WDL No. 18 Rifle Range near Kowloon City, 1905
WDL No. 19 Lyemun Peninsula Military Reserve Land at Sywan 1887
WDL No. 20 CROWN POINT
WDL No. 21 Wong Nei Chong Battery, 1899
WDL No. 22 Mount Davis Fort, Mount Davis
WDL No. 23 I.L. NO. 2268
WDL No. 24 Sun Wei Camp
WDL No. 25 Sun Wei Camp
WDL N0. 26 Tai Lam Chung Camp
WDL N0. 27 Tai Lam Branch Road
WDL N0. 28 Tai Lam Gun Road
WDL No. 29 Lo Wu Camp
WDL No. 30A Tai Lam Artillery Range
WDL No. 31 AN AREA ADJOINING THE SUN WAI CAMP
WDL No. 32 Site of KING'S PARK, KOWLOON
WDL No. 33A KOWLOON HILLS
WDL No. 33 TUNG LUNG ISLAND
WDL No. 34 TUNG LUNG ISLAND
WDL No. 35 TUNG LUNG ISLAND
WDL No. 36 Lo Wu Camp
WDL No. 37 Lo Wu Camp
WDL No. 38 Lo. Wu Camp
WDL No. 39 ??
WDL No. 40 TAI TAM GAP, HONG KONG
WDL No. 41 TAI TAM GAP, HONG KONG
WDL No. 42 SISTERS' MESS
WDL No. 43 BORRETT Road Quarters
WDL No. 44 RAZOR HILL, N.T.
WDL No. 45 JOSS HOUSE BAY & Reserve
WDL No. 46 Apli Chau & Reserve
WDL No. 47 Cape Collision & Reserve
WDL No. 48 TUNG LUNG ISLAND(South West) & Reserve
WDL.No. 49 BRAEMAR POINT (FORMERLY M.L. NO. 431, SEC A)
WDL No. 50 Chung Hue Island (South West) & Reserve
WDL No. 51 CHUNG HUE (NORTH EAST)
WDL No. 52 High Junk Peak & Reserve High Junk Peak
WDL No. 53 Tytam Tuk & Reserve
WDL No. 54 HA KWAI CHUNG, S.D., N.T., D.D. 445 LOTS 666,667
WDL No. 55 ??
WDL No. 56 ??
WDL No. 57 ??
WDL No. 58 ??
WDL No. 59 ??
WDL No. 60 ??
WDL No. 61 ??
WDL No. 62 MARINE SIGNAL STATION BLUFF POINT, STANLEY CANTONMENT
WDL No. 63 Norflok Road
WDL No. 64 Signal hill
WDL No. 65  Sham Shui Po Barracks
WDL No. 66  ??
WDL No. 67  ??
WDL No. 68  Cape Collinson Cemetery