西高山步槍射擊場遺蹟, 根據 1906 工務局報告第87項 "山頂步槍射擊場"由 皇家香港軍團(義勇軍)the Royal Hong Kong Regiment (The Volunteers)  要求興建,設有鏢靶區,100碼、200碼、300碼、400碼及500碼射擊點平台。鏢靶區有小屋放置鏢靶,主要用於(義勇軍)進行步槍射擊演習。直至二戰時停用 。
直到戰後1946年曾向地政處申請租用步槍射擊場土地,並於1949年發佈憲報,於是1950年 西高山步槍射擊場再次重新使用。由於設置西高山步槍射擊場時未曾興建瑪麗醫院(於1937落成)使用射擊場流彈對醫院及周邊範圍造成潛在危險。於1963年軍部經 考慮"風險評估報告"及 有其他可用合適的步槍射擊場,決定於1963年停用西高山步槍射擊場。
西高山步槍射擊場停用後,土地曾計劃用於休閑野餐場地,但最終只有鏢靶區落實成為休閑野餐場地,而放置鏢靶小屋仍然保留原地,其他射擊點區域並無進行改建工程,土地被棄置至今!
 " At the request of the Volunteer Reserve Association, a new rifle range was constructed at the Peak. The butts are situated on the Eastern slope of High West and the firing points below the Harlech Road, at ranges of 200, 300, 400 and 500 yards. The targets, which were obtained from England, are of Jeffries' Patent "Wimbledon" type and a small building has been constructed for storing them in when not in use. The range was finally handed over to the Association in October. The Work was executed under the supervision of Messrs. DENISON, RAM & Gibbs." 
1906 Public Works Report 87. Rifle Range at Peak
https://gwulo.com/node/36877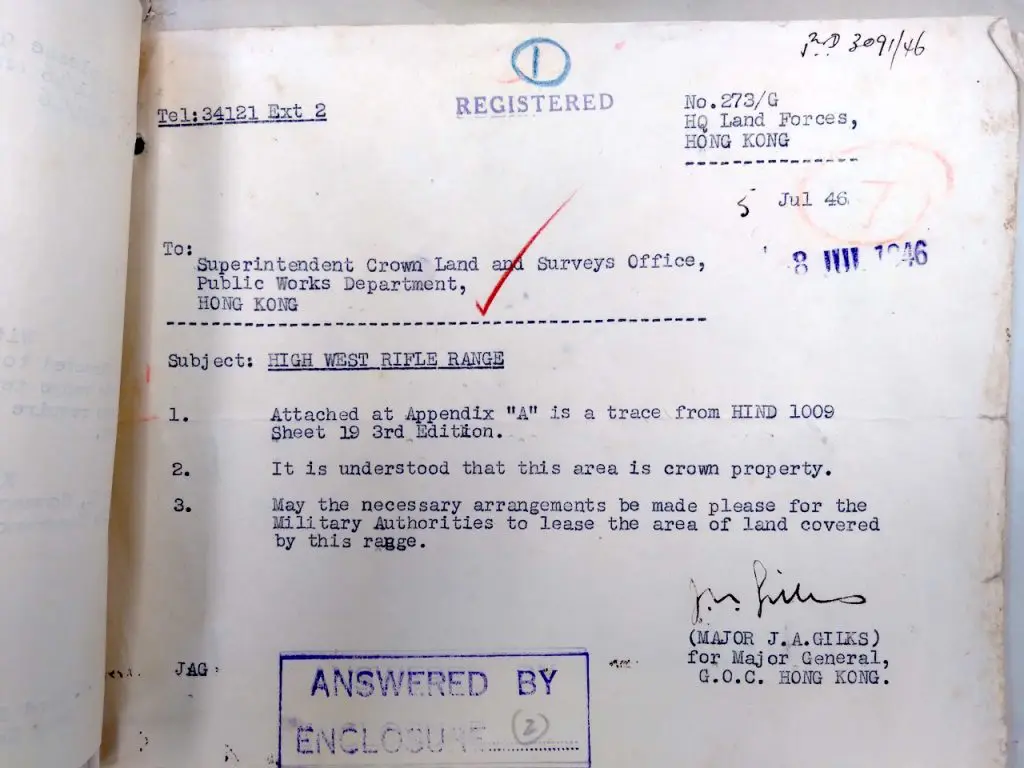 Notice
It is hereby notified for general information that the Peak Rifle Range is to be Brought into use again. The firing points of this range are to South of the junction of Harlech Road and Hatton Road. Firing takes place from East to West.
When the range is in use red flags will be raised at the following points:-
(a) on the shoulder of HIGH WEST, above and behind the stop Butts;
(b) where the track leading to the butts leaves Harlech Road;
(c) at points along Harlech Road.
The public are warned that when the red flags are flying entry to the firing points or into the area of the stop butts is dangerous and is prohibited. Movement of pedestrians along Harlech Road will not be affected.
Gazetted as G.N. No 1185 in
Gazette No 68 of 9.12.1949
參考資料:
1906 Public Works Report 87. Rifle Range at Peak
https://gwulo.com/node/36877
Rifle range on the Peak: The shooting platforms [????- ]
https://gwulo.com/node/2405#16/22.2714/114.1414/Map_by_ESRI-Markers/100
HKRS58-1-36-64
HONG KONG VOLUNTEERS CORPS : – 1. PROVISION OF A RIFLE RANGE, WITHIN EASY ACCESS OF THE VOLUNTEERS. 2. EXCLUSIVE USE OF THE KING'S PARK RANGE BY THE MEMBERS; AS TO THE –
HKRS156-1-576
HIGH WEST RIFLE RANGE, HARLECH ROAD, THE PEAK – APPLICATION FROM THE MILITARY AUTHORITIES TO LEASE –